Introducing our explainer video creation service
Choose your video's complexity level. You can order a whole video, and we'll go through the entire creation process with you, or you can just place an order for us to animate your artwork/illustration/image
Script writing
Prior research is necessary for each of our projects, so after we help define the goal of your video, we identify your target-audience, and then work together on crafting your message in a way that generates impact and involvement. We then develop a custom creative concept, and write your script and voiceover text.
Mood board
This step involves finding and creating your custom visual style. We offer suggestions for the background or ambiance, form and colours, then exchange views.
Voiceover
We ensure that you're offered the best voiceover artists for the job. Men, women, old, or young, we have a catalogue of voice artists to fit every role. Our Talent manager will guide them through the recording process and adapt the music and recordings to breathe life into your video.
Storyboard
We generate a storyboard from the mood board, and after coming to an agreement, our artists get to work bringing it to life. Each scene is presented with the text and descriptions of the animation, so that you get a better idea of how the final video will look.
Animation
This is where the magic starts! We introduce motion to your artwork, paying particular attention to transitions, visual angles and voiceover synchronisation.
Music and Sound effects
It's all about music: that's why "audio" comes before "visual" in "audio-visual". This step is paramount and simply cannot be neglected. Besides the music selection, we optimise and craft the sound design and volume to immerse and captivate your audience.
W e create a style ideal for your message and audience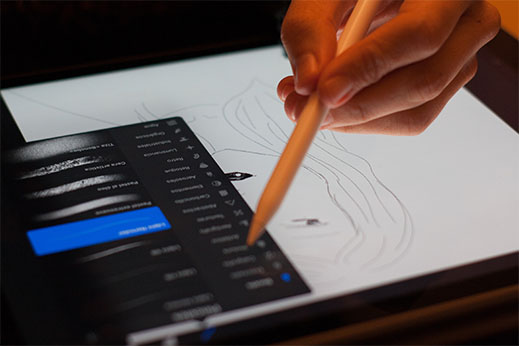 Y ou can send us your own voiceover recording or you can trust us to choose a voiceover artist for you.
If you simply need your artwork and illustrations to be animated.
Tell us what type of animation you require, upload the necessary files, provide us with a deadline, and we'll take care of the rest.

After a thorough analysis of your files, we'll immediately get started on your project.

In the meantime, you can choose your voiceover artist and we'll start recording their lines. At the same time, our project manager will send you a selection of musical pieces that match your video.
Our team starts the animation process and works on sound effects.

You can start checking the first draft of your video and write your comments and annotations directly on our platform.

We'll keep working on the video until you're perfectly happy, irrespective of the complexity level you've chosen.
After accepting the work, you'll receive your invoice, your video encoded in the format of your choice, and all of the source files used in the project.

Depending on your chosen payment method, you may be able to complete your invoice payment immediately.
What does « level of complexity » mean?
Adding more visual effects is great, but not always necessary. We have found that a good rhythm, effective sound design, and realistic movements are much more useful with the proper application, and we're here to help you make the best choice for your intended use and budget.
Simple and effective. Sometimes it's not necessary to present a work of art, especially if it's for internal circulation or a small public gathering.
Afterwards, you can ask us to increase the complexity level and to rework the video, should you need it for a different purpose.
We recommend this complexity level for videos that will be shared online. You can keep the source files afterwards and ask us to improve the video complexity from level 2 to level 3.


If this video is fundamental to, and strategic for, the development of your brand or company, we advise that you use this complexity level. Our prices remain among the lowest in the industry for work of this quality.
Checking progress and working with your project manager
Nothing could be easier thanks to our online tool. You and your colleagues will be able to check videos and documents 5 times faster using our platform.
You can log into our platform and review the videos.
You can also add annotations and comments directly on the video at the specific time.
You can review the progress of the project at any time of the day.
You can speak directly to your project manager on the platform.
You can check the entire change history of the project.